Vertebroplastia percutánea
Palabras clave:
Vertebroplastia, Fracturas vertebrales, Columna vertebral, Tratamiento
Resumen
La vertebroplastia percutánea es una técnica aplicable a pacientes con fractura vertebral con síndome doloroso importante y que no mejora con un manejo ortopédico y clínico integral. Se incluye una apretada historia del procedimiento, y se revisan sus indicaciones y contraindicaciones, así como las publicaciones que analizan sus ventajas y riesgos.
Descargas
Los datos de descargas todavía no están disponibles.
Citas
1. Clark P, Cons-Molina F, Delezé M, y col. The prevalence of vertebral deformity in Latin American countries: the Latin American Vertebral Osteoporosis Study (LAVOS). Osteoporos Int 20: 275-82, 2009.

2. Spivacow R, Sánchez A. Epidemiology, costs, and burden of osteoporosis in Argentina, 2009. Arch Osteoporos 5: 1-6, 2010.

3. Rosen HN, Walega DR. Osteoporotic thoracolumbar vertebral compression fractures: clinical manifestations and treatment. UpToDate online, agosto de 2017.

4. Andrews NA. The future of vertebroplasty: are randomized controlled trials, or clinical experience, the more appropriate guide? IBMS BoneKEy 6: 351-6, 2009.

5. Debussche-Depriester C, Deramond H, Fardellone P, Heleg-Ojeda H, Sebert JL, Galibert P. Percutaneous vertebroplasty with acrylic cement in the treatment of osteoporotic vertebral crush fracture syndrome. Neuroradiology 33(Suppl): 149-52, 1991.

6. Ojeda de Heleg A, Debussche C, Deramond H, Galibert P. Vertebroplastia acrílica percutánea: técnica, indicaciones y resultados. Rev Arg Radiol 57: 107-12, 1993.

7. Deramond H, Depriester C, Toussaint P, Galibert P. Percutaneous vertebroplasty. Semin Musculoskelet Radiol 1: 285-96, 1997.

8. Jensen ME, Evans AJ, Mathis JM, Kallmes DF, Cloft HJ, Dion JE. Percutaneous polymethylmethacrylate vertebroplasty in the treatment of osteoporotic vertebral body compression fractures: technical aspects. Am J Neuroradiol 18: 1897-904, 1997.

9. Vasconcelos C, Gailloud P, Beauchamp NJ, Heck DV, Murphy KJ. Is percutaneous vertebroplasty without pretreatment venography safe? Evaluation of 205 consecutive procedures. Am J Neuroradiol 23: 913-7, 2002.

10. Hou Y, Yao Q, Zhang G, Ding L, Huang H. Polymethylmethacrylate distribution is associated with recompression after vertebroplasty or kyphoplasty for osteoporotic vertebral compression fractures: A retrospective study. PLoS One 13(6):e0198407, 2018.

11. Yu WB, Jiang XB, Liang D, Xu WX, Ye LQ, Wang J. Risk factors and score for recollapse of the augmented vertebrae after percutaneous vertebroplasty in osteoporotic vertebral compression fractures. Osteoporos Int 2018. doi: 10.1007/s00198-018-4754-8.

12. McKiernan F, Faciszewski R, Jensen R. Quality of life following vertebroplasty. J Bone Joint Surg 86: 2600-6, 2014.

13. Trout AT, Kallmes DF, Gray LA, Goodnature BA, Everson SL, Comstock BA, Jarvik JG. Evaluation of vertebroplasty with a validated outcome measure: the Roland-Morris Disability Questionnaire. Am J Neuroradiol 26: 2652-7, 2005.

14. Capozzi A, Scambia G, Pedicelli A, Evangelista M, Sorge R, Lello S. Clinical management of osteoporotic vertebral fracture treated with percutaneous vertebroplasty. Clin Cases Miner Bone Metab 14: 161-6, 2017.

15. Voormolen MHJ, van Rooij WJ, Sluzewski M, y col. Pain response in the first trimester after percutaneous vertebroplasty in patients with osteoporotic vertebral compression fractures with or without bone marrow edema. Am J Neuroradiol 27: 1579-85, 2006.

16. Buchbinder R, Osborne RH, Ebeling PR, y col. A randomized trial of vertebroplasty for painful osteoporotic vertebral fractures. N Engl J Med 361: 557-68, 2009.

17. Kallmes DF, Comstock BA, Heagerty PJ, y col. A randomized trial of vertebroplasty for osteoporotic spinal fractures. N Engl J Med 361: 569-79, 2009.

18. Weinstein JN. Balancing science and informed choice in decisions about vertebroplasty (Editorial). N Engl J Med 361: 619-21, 2009.

19. Sambrook P. Between a rock and a hard place: what is the evidence for vertebroplasty and kyphoplasty? IBMS BoneKEy 6: 385-8, 2009.

20. Bono CM, Heggeness M, Mick C, Resnick D, Watters WC 3rd. North American Spine Society. Newly released vertebroplasty randomized controlled trials: a tale of two trials. Spine J 10: 238-40, 2010.

21. Staples MP, Kallmes DF, Comstock BA, y col. Effectiveness of vertebroplasty using individual patient data from two randomised placebo controlled trials: meta-analysis. Brit Med J 343: d3952, 2011.

22. Kroon F, Staples M, Ebeling PR, y col. Two-year results of a randomized placebo-controlled trial of vertebroplasty for acute osteoporotic vertebral fractures. J Bone Miner Res 29:1346-55, 2014.

23. Klazen CAH, Lohle PNM, de Vries J, y col. Vertebroplasty versus conservative treatment in acute osteoporotic vertebral compression fractures (Vertos II): an open-label randomised trial. Lancet 376: 1085-92, 2010.

24. Clark W, Bird P, Gonski P, y col. Safety and efficacy of vertebroplasty for acute painful osteoporotic fractures (VAPOUR): a multicentre, randomised, double-blind, placebo-cntrolled trial. Lancet 388: 1408-16, 2016.

25. Tranquilli Leali P, Solla F, Maestretti G, Balsano M, Doria C. Safety and efficacy of vertebroplasty in the treatment of osteoporotic compression fractures: a prospective multicenter international randomized controlled study. Clin Cases Miner Bone Metab 2016; 13: 234-6.

26. Firanescu CE, de Vries J, Lodder P, Venmans A. Vertebroplasty versus sham procedure for painful acute osteoporotic vertebral compression fractures (VERTOS IV): randomised sham controlled clinical trial. Brit Med J 361:k1551, 2018.

27. Grados F, Depriester C, Cayrolle G, Hardy N, Deramond H, Fardellone P. Long-term observations of vertebral osteoporotic fractures treated by percutaneous vertebroplasty. Rheumatology (Oxford) 39: 1410-4, 2000.

28. Trout AT, Kallmes DF, Layton KF, Thielen KR, Hentz JG. Vertebral endplate fractures: an indicator of the abnormal forces generated in the spine after vertebroplasty. J Bone Miner Res 21: 1797-802, 2006.

29. Baek S-W, Kim C, Chang H. The relationship between the spinopelvic balance and the incidence of adjacent vertebral fractures following percutaneous vertebroplasty. Osteoporos Int 26: 1507-13, 2015.

30. Mazzantini M, Carpeggiani P, d'Ascanio A, Bombardieri S, Di Munno O. Long-term prospective study of osteoporotic patients treated with percutaneous vertebroplasty after fragility fractures. Osteoporos Int 22: 1599-607, 2001.

31. Lindsay R, Silverman SL, Cooper C, y col. Risk of new vertebral fracture in the year following a fracture. JAMA 285: 320-3, 2001.

32. Martikos K, Greggi T, Faldini C, Vommaro F, Scarale A. Osteoporotic thoracolumbar compression fractures: longterm retrospective comparison between vertebroplasty and conservative treatment. Eur Spine J 27(Suppl 2): 244-7, 2018.

33. Han SL, Wan SL, Li QT, y col. Is vertebroplasty a risk factor for subsequent vertebral fracture? Meta-analysis of published evidence. Osteoporos Int 26: 113-22, 2015.

34. Shah LM, et al., Expert Panels on Neurological Imaging, Interventional Radiology, and Musculoskeletal Imaging. ACR Appropriateness Criteria® Management of Vertebral Compression Fractures. J Am Coll Radiol 15(11S):S347-64, 2018.

35. Sánchez A, Raggio JC, Valtorta E. Cascada de fracturas vertebrales en paciente osteoporótica al año de suspender denosumab. Rev Med Rosario 84: 22-5, 2018.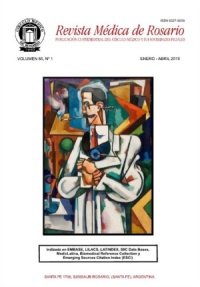 Descargas
Cómo citar
Ariel Sánchez y Adriana Ojeda (2019) «Vertebroplastia percutánea», Revista Médica de Rosario, 85(1), pp. 027-033. Disponible en: https://revistamedicaderosario.org/index.php/rm/article/view/18 (Accedido: 10diciembre2023).